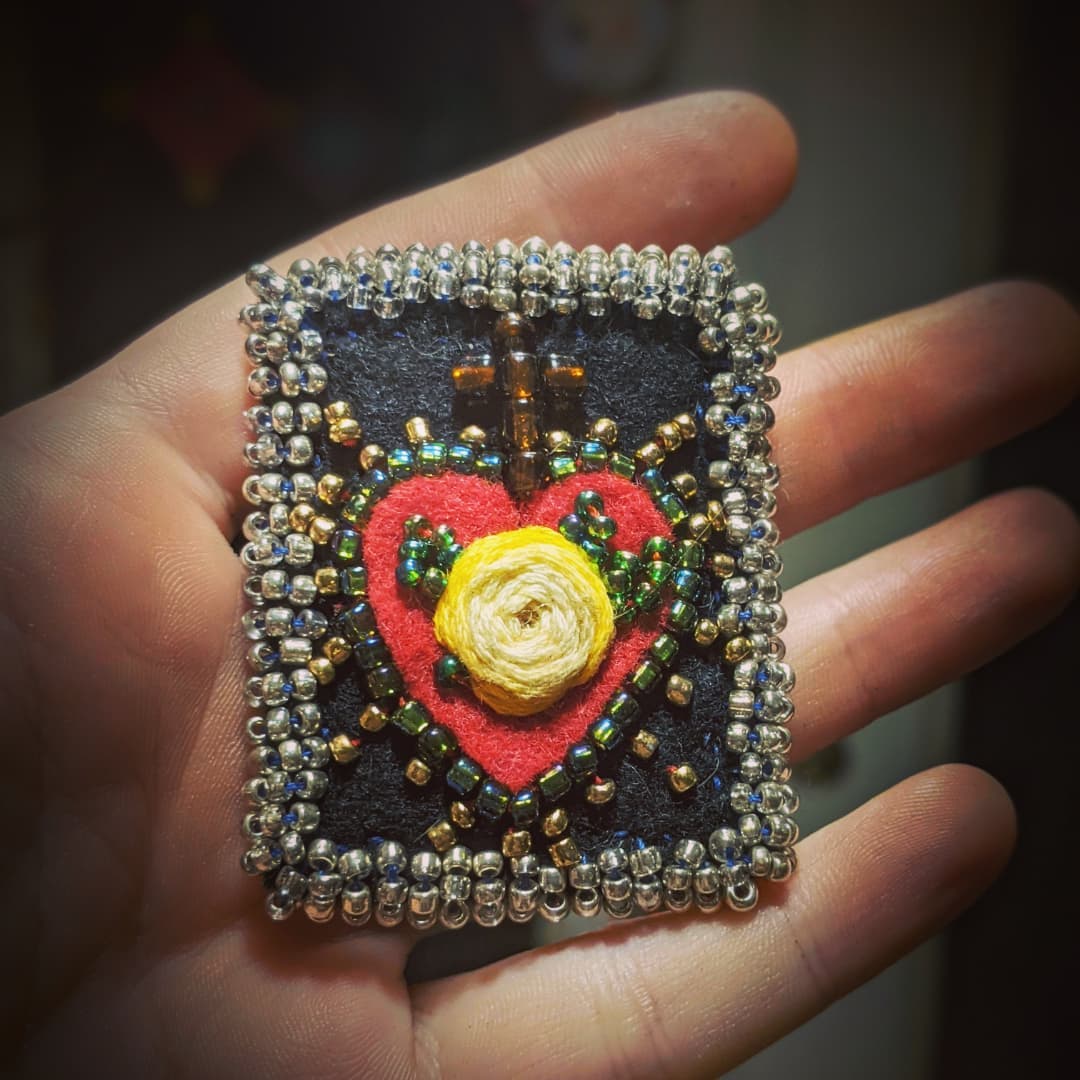 For this Project I used : Scrap Pieces of Felt, Seed Beads, Vintage Silver-tone Rope Chain, Embroidery Floss & Sewing Thread.
First, I began by Tacking a Heart of Red Felt onto a Rectangle of Felt & Promptly used a Backstitch to quick outline Heart with Seed Beads as well as a Cross as seen below.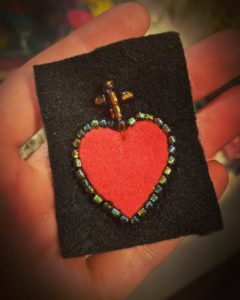 After this I began my White Rose. I used a color alternating Embroidery Floss that faded from White to Yellow. I also used a Wagon / Wheel Stitch to create the Rose. This is a highly useful Stitch as you can create a Rose onto tougher materials as you don't have to get your need through for every single stitch.
After tacking some beads around the Rose in Vague Leaf Shapes ( I am quite please how they turned out!) I incorporated some Gold Seed Beads to indicate Divine Rays emerging from the Sacred Heart.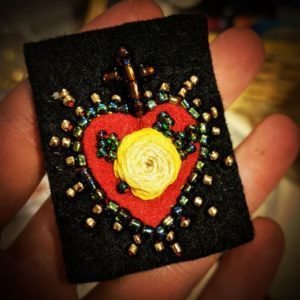 As I was quite in Love with this Piece as it came to Be. I cut another Black Rectangle to use as the backing, to add some thickness, as well as to stash the Stitching Knots. To Border the Badge, I simply strung 6 Silver Beads & did this going around 'n' around.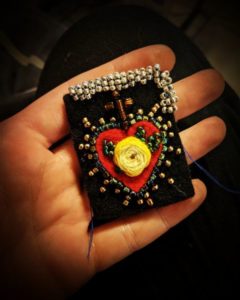 It took some time however, this process was incredibly Satisfying.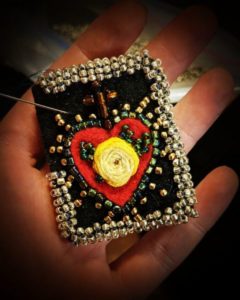 I used what I believe are referred to as Double Split Jump Rings to remove the possibility of the string slipping through the opening as well as being what I had on had (excluding regular ole Jump Rings & DIY ones).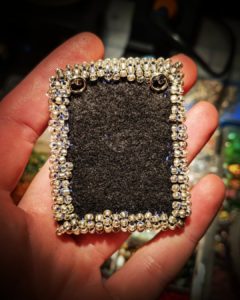 Finally Our Piece was Ready to Receive her Reigns!!! As in, the Chain was Added & the Piece was Complete!!!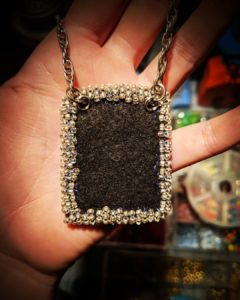 Here is the Finished Piece, I am absolutely in Love.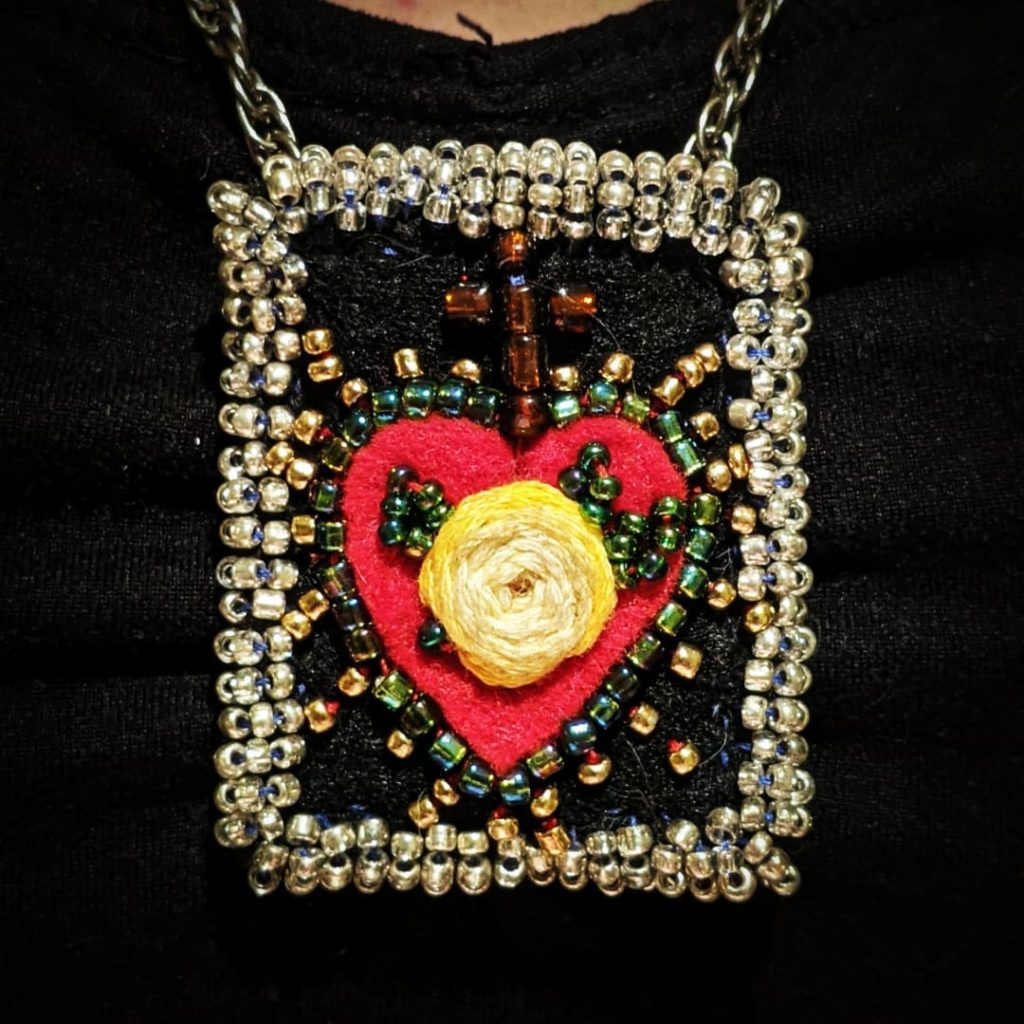 & have already begun a Line of Loteria Badges beginning with The Rose.