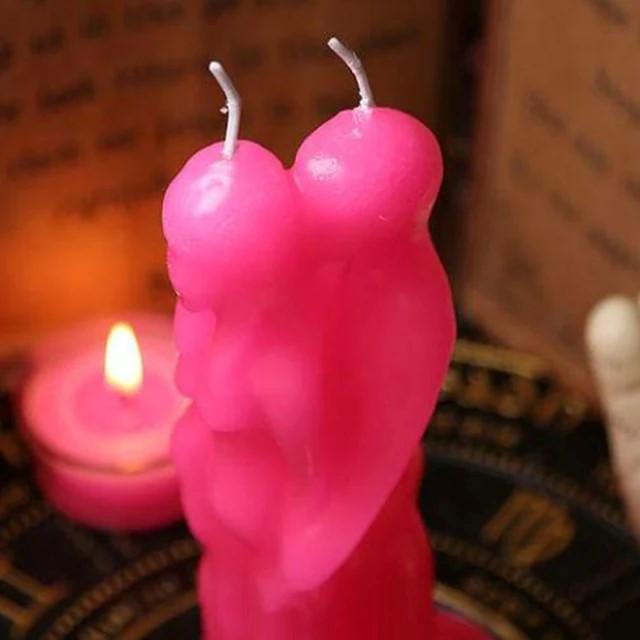 The following ritual was woven by me and is intended to enrich or attract love and passion into your life, for your highest good.
The Ritual
This ritual is just a guideline. So, if you wish to incorporate your own elements, or make changes, that's fine. Do this alone or with a special someone!
Place some foil or a heat-safe dish on your altar space. Anoint a red candle, or a Lovers Ritual candle (as shown in the image) with ritual oil. My blend includes:
Fractionated coconut carrier oil
Essential oils of patchouli for sexual desire (and even fertility), vanilla for love and positive sexual relationships, sweet orange to assist in opening the heart
Chamomile flower and cloves for love and dried chili pepper for lust and passion
Once the candle has been coated in ritual oil, dress it with a lovers herbal and save a little bit to cast a small circle around your candle. Feel free to light additional candles for added energy to fuel your intentions. My herbal blends includes:
Hibiscus flower for attracting love and lust
Ginger root for adventure, new experiences, sexuality. Enhances any magickal blend, also.
Lemongrass for lust and to repel "snakes"
Rosemary for beauty, love and lust. Is also used as an all-purpose herb.
Place carnelian or garnet to the south (for romance) of your candle, and rose quartz to the west (for unconditional love).
Light a sage, or other herbal bundle, and smudge your ritual space to clear the energy around it. Light a stick or cone of rose incense.
Finally, light your dressed and anointed candle. Close your eyes and take 3 slow, deep breaths. Inhale, and with every exhale, you calm your mind and give power to your ritual. Sit in a quiet space and focus on your intentions. When you feel ready, simply allow the candle to burn out completely. NEVER LEAVE FLAME UNATTENDED. If you are interested in interpreting candle wax (carromancy), this site is a good start.
For ease of creating your own love spells and rituals, here is a chart of correspondences:
| | |
| --- | --- |
| Day | Friday |
| Moon Phase | Waxing Moon |
| Color | Pink |
| Herb | Adam & Eve Roots, Aster, Bachelor's Buttons, Bedstraw/Fragrant, Beet, Bleeding Heart, Brazil Nut, Cardamon, Chestnut, Chickweed, Cubeb, Dogbane, Dutchmans Breeches, Elm, Indian Paint Brush, Ladys mantle, Lovage, Pear, Pimento, Plumeria, Prickly Ash, Rose, Quassia, Senna, SpiderWort, Sugar Cane, Tamarind |
| Incense | Carnation, Gardenia, Hibiscus, Jasmine, Patchouli, Orange, Rose, Strawberry, Vetivert, Ylang Ylang |
| Essential Oil | Carnation, Dragon's Blood, Ginger, Jasmine, Myrtle, Rose |
| Crystal | Blue Topaz, Chryscholla, Garnet, Jade, Peridot, Quartz (Rose), Rhodochrosite, Serpentine, Tourmaline |
| Metal | Copper, Gold |
| Rune | Gebo, Ingwaz |
Source: LWL